Giove is a versatile tool-carrier for in-row cultivation with an automatic retracting system. It is designed for trees with large foliage and, generally, any plantation trained with row system. Row width should be above 450 cm (177 in.).
Giove can be mounted on the rear of the tractor by using a 3pt hitch. It is equipped with a 60 liters oil self-contained hydraulic system.
Due to its limited weight (about 500Kg / 1102 lbs depending on the version), a 50HP tractor is enough for operating this machine. However, considering the large side offset, a heavier tractor would be preferable.
The hydraulic system plays a crucial role in the choice of the tools with which Giove can be equipped. The machine is hence available in two different versions:
– single pump: which allows equipping the machine only with a limited selection of working tools;
– double pump (BIPOWER) and oil cooler: ensures higher performances and allows the machine to be equipped with any working tool.
Real-time adjustments can be easily controlled by the operator directly from the driver's seat by using an electronic joystick or, as in standard version, an hydraulic distributor (only for tractors without cabin).
Giove is recommended for trees with large foliage and, generally, plantations trained with row system. The machine offsets 310 cm (122 in.) from the center of the tractor and therefore is suitable for operating in rows whose width is larger than 450 cm (177 in.).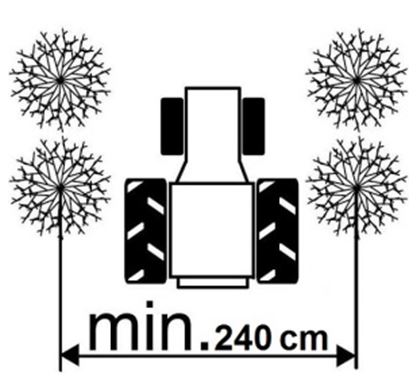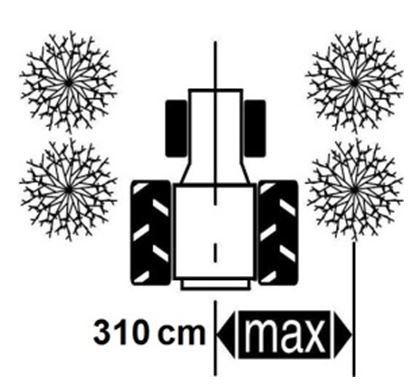 MOD. BIPOWER
OUTFIT AND TECHNICAL FEATURES
Automatic tool retracting system.
Self-contained hydraulic system with reservoir, 2 PUMPS and OIL COOLER
ELECTRONIC DISTRIBUTOR (JOYSTICK) which allows the operator to control:

manual tool retraction in case of need
hydraulic working depth adjustment
hydraulic offset of telescoping pole
tool rotation control.

Ideal for tractors with cabin
MOD. 24

OUTFIT AND TECHNICAL FEATURES
Automatic tool self-retraction when touching the plant.
Self-contained hydraulic system with reservoir, 2 PUMPS and OIL COOLER.
HYDRAULIC 4 LEVER DISTRIBUTOR which allows the operator to control:

manual tool retraction in case of emergency.
hydraulic working depth adjustment.
tool carrier shaft hydraulic extension.
working tool rotation.

Only for tractors without cabin
MOD. 14 E
OUTFIT AND TECHNICAL FEATURES
Automatic tool self-retraction when touching the plant.
Self-contained hydraulic system with reservoir and SINGLE-PUMP
ELECTRONIC DISTRIBUTOR (JOYSTICK) which allows the operator to control:

manual tool retraction in case of emergency
hydraulic working depth adjustment
tool carrier shaft hydraulic extension
working tool rotation.

Ideal for tractors with cabin
MOD. 14
OUTFIT AND TECHNICAL FEATURES
Automatic tool self-retraction when touching the plant.
Self-contained hydraulic system with reservoir and SINGLE-PUMP
HYDRAULIC 4 LEVER DISTRIBUTOR which allows the operator to control:

manual tool retraction in case of emergency
hydraulic working depth adjustment
tool carrier shaft hydraulic extension
working tool rotation.

Only for tractors without cabin
MOD. 11
OUTFIT AND TECHNICAL FEATURES
Automatic tool self-retraction when touching the plant.
Self-contained hydraulic system with reservoir and SINGLE-PUMP
Manual tool retraction in case of emergency (with hydraulic distributor)
Manual working depth adjustment.
Tool carrier shaft manual extension.
Only for tractors without cabin
MOD. 10
OUTFIT AND TECHNICAL FEATURES
Automatic tool self-retraction when touching the plant.
Self-contained hydraulic system with reservoir and SINGLE-PUMP
Manual working depth adjustment.
Tool carrier shaft manual extension.
Only for tractors without cabin